Not all standing desk converters are created equal. When it comes to finding the perfect one for you, there are a number of factors that you should consider. From the laptops and accessories you need to accommodate to your height and possible aches and pains you have; being able to adjust to how you work is all about finding the right ergonomic tools for you. Standing desk converters are the latest craze in ergonomics, not only does it adjust to your most ideal position, it also allows you to transform your workspace to work for you. While there may be a large number of different standing desk converters in the market, finding the perfect one for you can be quite overwhelming. In this article we'll be comparing two of the bestselling standing desk converters from FlexiSpot, the M2 and the M7. Not only are these two options considered one of the most inexpensive in the market, they've also been reviewed to be sturdy and versatile, proving that you don't have to spend too much money to get value. To compare what might work best for you, we'll be looking at 3 important factors that can affect which standing desk converter you choose.
What Fits: Size & Weight Capacity

Finding what works for you first starts with the fit. While a standing desk converter isn't something that you wear, having it fit means having it fit to your needs. Fitting to your needs means finding what works best for your setup. Ensuring that you have enough space and capability to hold your laptop/computer and all accessories and fit your desk means that you can find the perfect standing desk for your workspace.
 The M2 is composed of the main desktop and the detachable keyboard tray. The main desktop measures at 28.4"x 16.3" with a weight capacity of up to 33lbs while it's keyboard tray measures at 28.4" x 12.1" and a weight capacity of up to 4.4lbs. The M7 also has a main desktop and a keyboard tray, although it's keyboard tray isn't detachable. The main desktop is a little bigger, measuring at 35" x 23.2" and can handle more weight, up to 35lbs to be exact. It's keyboard tray is also bigger than the ClassicRiser measuring 34.4" x 12.8" with a matching weight capacity to the ClassicRiser at 4.4lbs.
The M7 obviously has an advantage in terms of weight capacity and size, perfect if you have a heavy PC or monitor. And while the ClassicRiser M2B might be smaller, it's more versatile with a removable keyboard and is perfect if you have a smaller desk and fewer accessories.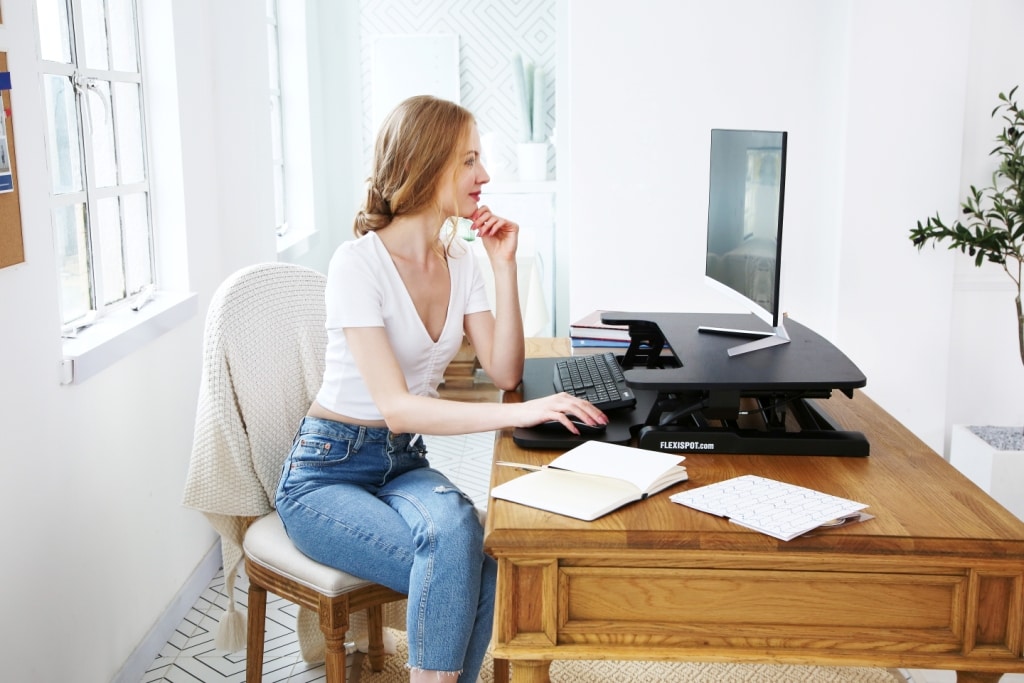 What Works: Assembly & Usability
Now that we've covered the basic aspects of what fits your needs, let's cover what works for you. When we're talking about what works, we're referring to the ease of assembly and the usability of your standing desk converter. Part of understanding what works is realizing how you'll be working with your pick from packaging to actual use.
In terms of both the M2 and the M7- both seem easy to assemble, each taking only 5 steps to complete a setup. With very few parts to put together and no tools needed, it's an amazing plus for both standing desk converters to be easy to use.
Usability is where these two standing desks differ. The M2  can be adjusted by simply squeezing the single hand bar and lift using only 13 lbs of force, lowering requires just 3 lbs of force. While this adjustable usability is amazingly simple, the M7 steps up to the plate in terms of usability. Not only does it have a quick-release, removable keyboard tray, it also has a single handle adjustment feature that allows you to easily adjust your position without having to apply much force. Both standing desk converters provide smooth and quick transitions, essential in getting the most out of your standing desk converter.
What Transforms: Height Adjustable Range
The last of the factors we'll be looking into is what transforms. Now this might not seem like a common category to consider but understanding what transforms with a standing desk converter is essential for you to reap the benefits of ergonomics. In this vein, we'll be looking into the height adjustable range of both desk converters. While the height of your standing desk might be dependent on the height of your desk, it's important to take note of the height adjustable range to be able to understand how it can adjust to different workspaces and desks.
  The M2 and the M7 actually both have a height adjustable range that's close to one another. With the M2 having a height adjustable range at 5.9" to 19.7" and the M7 range at 4.72" to 19.7", the Alcove Riser only edges out the ClassicRiser for less than an inch.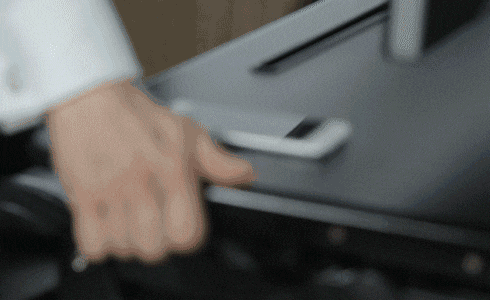 Choose What Works for You
When it comes to choosing the right desk riser, always remember that it's about finding what works best for you. What's important is finding the right position for you and this can be achieved with both standing desk converters. If you're unsure about the right height for you, check the Ergonomic Calculator to discover the perfect sitting and standing height and screen distance for you.